EC publishes Toolkit to tackle NCDs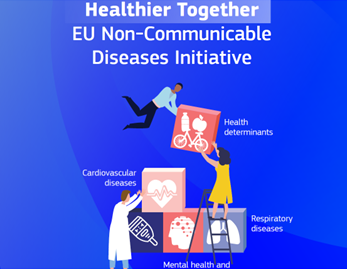 The Commission published on 22 June a guiding document for the "Healthier Together: EU Non-Communicable Diseases (NCDs) Initiative".
The EU Non-Communicable Diseases Initiative (EU NCD Initiative) aims at identifying and putting into practise effective policies and initiatives to lessen the burden of serious non-communicable diseases (NCDs) and enhance citizens' health and well-being. The Initiative runs from 2022 to 2027 and covers 5 strands: diabetes; cardiovascular diseases; chronic respiratory diseases; mental health and neurological disorders; and horizontal strand on shared health determinants, focusing on population-level health promotion and disease prevention of NCDs (complementing the actions of Europe's Beating Cancer Plan).
A toolbox has been published to help direct and coordinate efforts to combat NCDs as well as to pinpoint and open doors for the implementation of high-impact initiatives across national borders.
There are two sections to the document. Part A describes the co-creation method utilised to create the EU NCD Initiative in conjunction with MS and other stakeholders. AIM has been actively involved the co-creation process.
The EU NCD Initiative, which was developed in response to the proposals and concerns, is described in Part B. It begins with a succinct explanation of the problem that NCDs present to EU member states and the benefits of cooperating at the EU level in this area. After that, it gives a summary of the effective and ambitious policies, best practises, and other initiatives indicated for each strand.